The SYDFEE is an electro-hydraulic control system based on an axial piston variable displacement pump for controlling pressure, flow and power without throttling losses in the energy line. The advantages are robustness, high efficiency, energy efficiency as well as a dynamic and highly accurate regulation.
Pumps are as following :
1.Axial Piston Pumps
2.External gearl pumps
3.Internal gear pumps
4.Gerotor pumps
5.Vane pumps
6.Radial piston pumps
7.Electrohydraulic pumps
If you have any inquiry please feel free to let me know .
Production description :
Version with axial piston variable displacement pump A10VSO.../31
Size 18 - 140
Component series 2X
Maximum operating pressure 280 bar



Feature :
A SYDFEE-2X control system is used for the electro-hydraulic control of swivel angle, pressure and power (partially optional, see type key pilot control and preload valve and ordering code) of an axial piston variable displacement pump.
The control system consists of the following components:
Axial piston variable displacement pump A10VSO.../31
VT-DFPE-.2X proportional valve as pilot valve with integrated electronics including inductive position transducer for valve position sensing.
Position transducer for sensing the swivel angle
Pressure transducer with suitable signal level and dynamics (optionally HM 20, otherwise separate order)
Preload valve with integrated pressure relief function SYDZ (optional)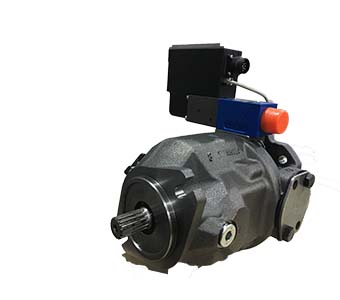 About Us :
Siedman (Xiamen) Hydraulic Technology Co; Ltd is an professional supplier of hydraulic products, we have our own brand Mannesmann Rexroth, and also provide products of BOSCH-REXROTH. We provide good quality, best service and reasonable price. Our products include Pump, motors, cylinder,valves, manifolds and plates, electronics, Systems, power units, accumulators, filters, oil treatment, oil measurement technology, tools and configurators.
After many years of development, we have established several agents home and abroad, offering comprehensive and advanced hydraulic solution for mechanical and engineering application, industrial automation, renewable energy market etc, we focus on providing products and service that consistently exceed our customers` expectations and meeting regulatory requirements. We deliver top quality product in time and achieve customer satisfaction through continual quality and process improvement. Please feel free to contact us for all your requirement.
PRODUCTOS POR GRUPO : Bomba hidráulica > Bombas de engranajes externos